3-in-1 multi-menu rice cooker, steamer, slow cooker
The rice cooking function is designed to cook a variety of rice and fluffy rice. The slow cook function makes a dish, like beef stew, much more conveniently. The steamer is for quick and easy cooking of vegetables.
Far-infrared Ray Coating
Scratch resistant and non-stick coating inner pot which heats up rice evenly and thoroughly.
2 Timer Setting
Detachable Honeycomb-liked Stainless Steel Cover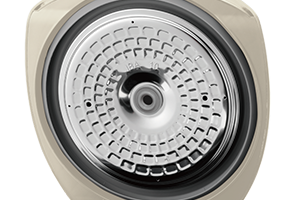 Model No.
JBA-T10G
JBA-T18G
Colour
Urban Beige (CU)
Inner Pot Material
far-infrared ray coating
Capacity
1 cup - 5.5 cups
2 cups - 10 cups
Electric Rating
641W
918W
Rice Cooker Dimensions (cm)
24.7x33.7x21.3
27.6×36.4×24.4
Rice Cooker Weight (kg)
3.1kg
3.8kg
Accessories
Steaming plate, Rice scoop, Ladle, Measuring cup
Rice Cooker Dimension: width x depth x height